I realize I have written very little about the ship, and the cruising part of our journey. Since it's a quiet rainy day, here in Homer, and I have some time, I did want to cover that a bit.
Coral Princess is a pretty big ship, though not as big as some of the megacruise liners out there. It holds around 2000 people, and was built specifically to fit in the Panama Canal, which keeps the size down a little bit.
Our cabin was a minisuite with balcony on Caribe deck (deck 10). It's relatively spacious for a stateroom, with a nice sitting area, 2 tvs, and the balcony has room for 4 seats.
Here's the room:
And this is the balcony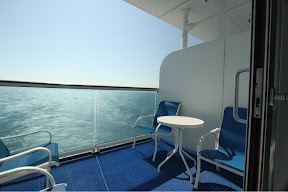 It is too cold in Alaska to use the balcony a lot. However on the glacier cruising days, it was a great place to be. The decks could get pretty crowded near the rails.
Contrary to popular opinion, having a port side cabin on a northbound cruise is perfect. The inside passage has scenery on both sides most of the time, and when you enter glacier bay and college fjord, the port side has a better view. I would not hesitate to recommend a port side cabin, no matter which direction you are cruising.
The food on board as generally pretty good. Some things were just okay, some were great, but nothing was really terrible. We ate most of our dinners in the dining room, with traditional late seating (fixed time, same table every night). Our waiter, Sebastian, was pretty entertaining. He did get to know us, and as the cruise went in was quick to bring us extras. I particular, he got to where he knew my nephews would want more of things. On the last night he brought my 19 year old nephew TWO orders of the mussels, and just filled up a big bowl of them for him. It was very funny.
We did eat one night in the alternative restaurant, Sabbatini's. This was a huge meal with lots of different courses. It was good, but really not worth the extra charge, I don't think. It's an additional $20/person and not any better than what you get In the regular dining room.
Our favorite food item on the ship was the Princess pizza, served near the pool. We all had a hard time passing it up whenever we were out on deck. Really, the availability of food ALL the time can really catch up with you.
We often had lunch or breakfast in the Horizon court which is the buffet. Results here were mixed, some of the buffet offerings were pretty awful. But there was plenty of selection, so there was always something edible. However, this dining area is always busy, tables were hard to come by, and it was a zoo. We got a bit tired of dealing with it after a while. I often had breakfast via "Todd's Delivery Service". Really, everybody needs a companion willing to brave the buffet line to bring coffee, fruit and bacon back to the room while i slept late!
This is a picture of the pool area on the Lido deck. Its pretty deserted even in the day time because it's cold and windy.
We went to a couple of the evening shows in the Princess Theater. One of them was a juggler/comedian named Dan Bennett. He was surprisingly hilarious. We really enjoyed his act. The other show was a production deal called "Motor City", which was a salute to Motown. Now I kind of liked it, I liked the music. But the blond girl who sang the lead parts had a nice enough voice, however she didn't have anywhere near enough would for the songs she was singing. And she couldn't dance a lick. The rest of the cast was okay, but the overall effect was a bit schmaltzy and pointless. Perhaps that was the intent? If so, they did a great job!
Several family members enjoyed the casino. Nobody lost too much money. Nobody played slots, they were mostly playing blackjack and having a good time.
All in all, we really enjoyed the cruising experience, and might do it again some time, maybe even on a Princess ship. The parts we didn't enjoy...the occasional crowds and waiting in line for stuff, were fairly minimal. And I do wish they'd give up the policy of formal nights. While I thought it would be fun to get dressed up, I never want to have to convince 9 people to travel with dress clothes ever again!