We had lunch at the Pourhouse in Gastown, and then hopped back on the Big Bus. Our next hop off was at Granville Island, to wander a bit and see the public market. I love public markets like that, but they always make me wish I had a place to cook. I wanted to buy the fresh made asparagus and goat cheese ravioli, and serve them with sautéed fresh morels. The morels were bigger and fresher looking than any I have ever bought on the east coast.
The bridge we crossed to get to Granville Island:
After walking for a bit, it was back on the bus, where we headed to Stanley Park. Our main objective was to see more totems. S we got off the bus, and walked down to the small totem park.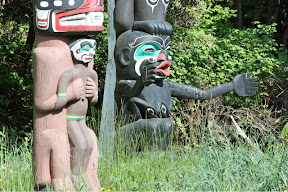 We found another Big Bus at the totem park, and realized we could get on it, and do the complete park loop. It was such a nice day, it was great to drive around. And we got great views of Lions Gate bridge:
And we saw a very tame raccoon:
I highly recommend the park tour!
Location:Robson St,Vancouver,Canada