It's Saturday, and I finally have time to catch up with my posts. We disembarked the Coral Princess in Whittier this morning. It was a fairly easy process, though I wish I had known that independent travellers can leave the ship whenever they want, as long as their transportation is ready. We would have let a bit earlier.
Anyways, we walked from the ship a couple of blocks to the Avis office. It started raining hard while we walked, and we got rather wet. We had no issues picking up our car, except they didn't have any local maps. They gave us the standard car rental maps of Anchorage and Fairbanks...two places we aren't going. I tried to buy a map, but they had nothing. Of course, there are only two highways on the Kenai Pninsula, and only one road out of Whittier, so perhaps a map is a silly idea. I do have the iPad of course, but there doesn't seem to be any 3G out here, only edge network, so it's very slow.
Leaving Whittier we drive through the longest single lane tunnel in the world. It's timed, so we had to wait about a half hour before it opened in the direction we wanted to travel. Then we were annoyed to find they let all the tour buses go through first.
Here's the tunnel entrance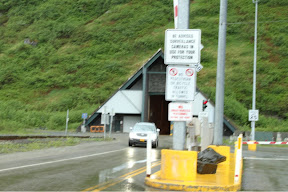 It's about a 4 hour drive to Homer. I thought we might stop for some sightseeing along the way, but we're both a little tired today and prefer to drive straight through. We do stop for lunch at a diner in Cooper Landing.
The drive along the Kenai river is very pretty. I think we will stop at Russian River Falls on the way back in a few days to get some pictures. There were a lot of fishermen out on the river.
We do stop outside of Homer at the scenic overlook, where you can see the entire Homer spit
Finally, we arrive out our destination, the Beach House b&b. It's a very cute little house on the bluff overlooking a long stretch of beach, and those snow capped mountains across Kachemak Bay.
And yes, as I mentioned in the previous post, there are eagles outside our window, nesting in the tall pine trees.
This is our view
Location:Sterling Hwy,Homer,United States