Thursday night dinner, we went to an iconic seafood restaurant in Vancouver called Joe Forte's seafood and Chophouse. When the waitress told us they had the salmon from the first run if the season on Copper River, we definitely had to have it. It was served with some slivers of fennel, sautéed chard, and an herbe beurre blanc.
For dessert, molten chocolate cake with vanilla gelato
And also apple pie with cheddar cheese.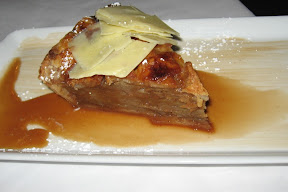 Yummy!!
- Posted using BlogPress from my iPad