Thursday dawned bright and sunny. And that was good news as we would be spending another day out on the water. Today we would take the 9 hour tour into Northwestern Fjord, a remote part of the Kenai fjords national park.
Here is our transportation for the day
We were just out into Resurrection bay when these two friendly sea otters swam up alongside
And here is the first of several glaciers we would spot.
We saw both orca and humpbacks. One orca came right up to the boat and dived under. I didn't get a great picture of him, but this gives you an idea how close he was
And here's the humpbacks
We even got a decent bear sighting on a nearby beach
The landscape around these coves and bays is really beautiful. Steep rocks and trees soar up out of the water which is smooth as glass today.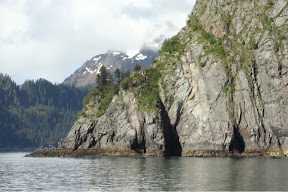 Location:Seward AK