One of the main reasons I chose a Princess ship for this trip is because most of the Princess ships sail into Glacier Bay national park. The park is restricted, and only lets in 2 cruise ships per day, and Princess and HAL own most of the permits.
The ship is boarded by 2 park rangers early in the morning on Thursday, and starts it's sail up into the bay around 6am. By around 8 we are passing our first glacier, Reid Glacier
It is a bit overcast, and chilly out on deck. But the weather isn't too bad, and later in the morning the sky lightens up a little bit. A bit later, maybe 9 AM we start passing the beautiful Lamplugh glacier. The ship parks in front of it, and turns so both sides can see.
Finally, around 10 or 11 we get to Margerie glacier which is the main event. And Margerie indulges us by putting on a rare show. It calves dramatically and almost continuously for the hour we are parked in front of it. We get to where we can hear the popping of the ice right before pieces start falling off. It's truly amazing.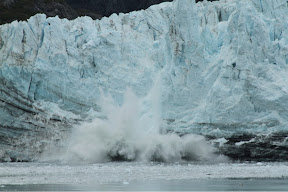 We spent a little more than an hour in front of the glacier, and we were glued to the rails almost the entire time.
Afterwards, as they sail back out of the bay, the ship sets up a seafood buffet on deck so we can eat and enjoy the scenery.
I did see a little bit of wildlife while sailing through the bay. We saw a bear on shore at a great distance, a few more bald eagles, some harbor seals and I spotted a humpback as we were leaving. Supposedly there were also otters and mountain goats visible, and puffins, but I was unable to spot any of these even with binoculars. No matter...I will see puffins in Homer, and Kenai fjords most likely. Hopefully otters too.