On Sunday I had booked us a guide for the day, to take us out on the water and looking for wildlife. Eagles, otters, puffins, and whatever else we could find was on the agenda. I was also hoping to shoot some of the beautiful scenery.
We explored Kachemak bay for a bit, with our skipper aboard the Skookum. We pulled into Little Tutka Bay, with hopes of seeing some tide pools, but it was a little too late, and the channels were filling up. It was a charming bay, however.
And we did meet Harry, the sea otter.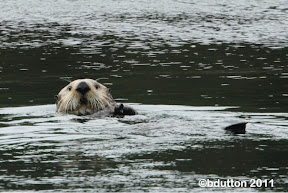 We went into Tutka Bay, and caught a couple of cod to use as eagle bait. When we found a couple of likely fellows, we threw the fish out, and wait to see if they would fly in and have lunch. And sure enough, one did
Here he is, taking off with his booty
We also went to Gull Island, in the middle of Kachemak Bay. Guess where it's name comes from?
Amongst the gulls on this large rock, were common murres, and these red faced cormorants
And just what I was looking for...some tufted puffins
Here's more of Gull Island
All in all, it was a great day out on the water!
Location:Seabreeze Ct,Homer,United States