One more glacier pic...here I am holding a piece of the Northwestern glacier
We have a few more wildlife sightings on our way out.
These are harbor seals, hauled out on glacier ice.
And some stellar sea lions enjoying the sunshine almost as much as we were
The were lots of seabirds too, like this oystercatcher
And another puffin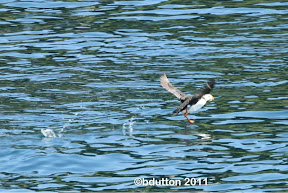 And we saw many waterfalls
It was a great day. A long 9 hours on the boat, but a great area to see.
Location:Seward, Ak