Monday was a grey drizzly day, and we didn'thave anything planned. So we had a lazy morning. I went down to the beach, below our b&b for a walk. At low tide, there are long stretches of shady, rocky beach. The tides here rival Maine for length. A few shots of the beach: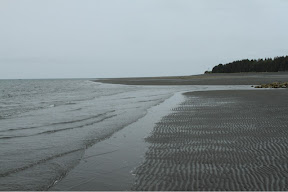 We spent a bit of time wandering around Homer. We went to the Pratt museum which has a general history of the area...displays cover native people's, homesteaders, area wildlife and one exhibit talks about the Exxon Valdez spill.
At the end of the day, we had pizza for dinner at Fat Olive's. Then came back where Todd enjoyed is favorite part of this b&b...the hot tub with a view.
Location:E Bayview Ave,Homer,United States